High School Missions Program
We believe strongly in the importance of serving others and feel mission trips are a great way to serve. We have a unique program for our high school students. Each year they have the opportunity to participate in a mission trip experience designed to allow them the chance to travel, learn, and serve.
9th Grade
As 9th graders we travel to Lake Wales, Florida to an incredible and unique location known as H.E.A.R.T (Hunger Education And Resource Training) Village. The facility is set up like a third world country with limited electricity, functioning latrines, team building activities, and so much more. During our stay at HEART the students learn skills in three areas: 1) Primitive Cooking, Gardening, and Animal Husbandry. This is an amazing opportunity for students to unplug from life's distractions and busyness while learning valuable lessons about life in third world countries.

10th Grade
Our 10th grade students travel to Bethel Christian Camp in Gaston, South Carolina. This is a fun and exciting week with a focus on growing together as a class and learning how to share the Gospel. They learn what it means to live "Life on Mission" and they are made aware of the mission field that exists all around them.

11th Grade
Our 11th graders have their first major mission trip opportunity as we travel somewhere in the United States for a domestic mission trip. We have traveled to a variety of locations including Texas, New Mexico, and Alaska. We usually partner with Next Step Ministries to coordinate these trips. The students have the privilege of serving in a variety of communities and have the opportunity to see how God is working throughout the US. After a challenging and exhausting day of work, we close our evening with powerful praise and worship and a bible study designed specifically for their age. These are life changing memories that last for years to come.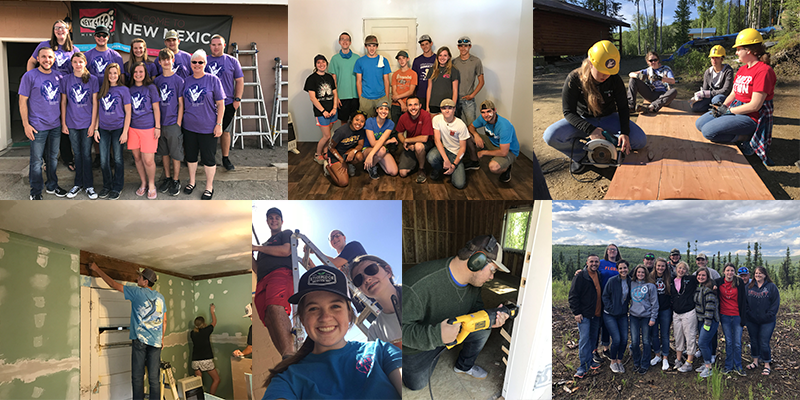 12th Grade
Finally, our 12th grade students are presented with the opportunity to travel outside the United State on an international mission trip. These incredible opportunities allow our students to see who people live in other parts of the world while also sharing with these communities the love of Jesus. We have traveled to Fond Blanc, Haiti and had a trip planned to Jamaica before it was canceled. These trips are designed for our students to see that God's love goes beyond borders and leaves them with memories that impact them for eternity.